2017 is over and it's time to take stock and make predictions for to the year ahead. I'm laying my flag in the sand and making my top 14 predictions for 2018 interior design trends.
Big and Bold
Gone are the days an interior designer could paint an entire property Farrow & Balls Elephants Breath, or a landlord could paint every single surface magnolia. Colour is back in interiors in a big way and 2018 this is only going to continue. Whether you choose clashing or coordinating colours your properties should have a greater range of colours than ever before, painting picture rails and skirting boards the same colours as the walls - painfully 2016. Darker colours will continue to be big hits with Indigo, Emeralds and even that most divisive colour of all Terracotta will be everywhere.
Heritage Prints
With the horrors of Brexit on the way now more than ever are interior designers looking back on the past with rose-tinted glasses, to the ideals of the Arts & Crafts movement. The Arts and Crafts movement was founded on the dream of a culture that is at one with nature and the belief that beauty is a spiritual ideal that all should be able to attain, those are ideals that many want in their lives and its not surprising that many designers are producing beautiful patterns and products inspired by the likes of William Morris today.
Budget Brands
2017 has seen a huge increase in supermarket brands having homeware collections and doing them really well.
When you can get equal quality for a fraction of the price its hard to see consumers turning their noses up at these options any time soon, because when you can have something seemingly indistinguishable from something higher priced why would you choose the more expensive option?
Made of Made.com have introduced a new 'Essentials' line a budget offering featuring some seriously stylish furniture and wallet-friendly homeware accessories. With beds and lighting also in this new low price point range there truly is a lot of great value and easy to use pieces anyone with a passion for interior design will love. Made are also venturing into the fashion sector and this greater diversity from Homeware stores is an increasing trend in the interior design world, the success of other brands such as Laura Ashley which styles its stores as lifestyle one-stop shops with fashion and homewares displayed together.
Reoccuring Designs
Is the way people are decorating their homes killing off the capsule collection? The majority of people are no longer renovating a whole room but instead choosing to only update parts of it. So coordinating wallpaper and fabric collections are struggling to sustain long-term sales, this has created a trend of bringing back classic designs and coordinating sets across multiple collections so that you can reuse designs you like in fresh ways without having to revamp the entire room. For consumers this is a win-win, making it easier than ever before to find brands with styles they like in an increasing number of scale and colour options.
Reuse, Recycle & Waste Not
In the beautiful surroundings of the Somerset House Courtyard, you wouldn't expect a manufacturing plant, but that is exactly what was there for London Design Week 2017! The worlds First ever fully functioning mobile recycling plant spent the week making tiles from recycled bottles.

The creators, Pentatonic, hope that the plant affectionally named the 'Trashpresso' could bring 'industrial grade recycling to isolated communities' one day, creating long-lasting useable construction materials from readily available junk.
This highlights a growing consumer awareness of the environment and concern for the provenience of their products. Biodegrabale materials, products made from recycled materials and waste are all key trends for the interior designers of 2018.
Terrazo is beautiful, it is also more often than not made out of waste chippings this can be plastics, glass, stone or ceramics. The beauty comes first, obviously, but the
feel-good
factor of knowing you've bought something planet friendly definitely gives most people that warm fuzzy feeling. Expect to see terrazzo everything, from accessories to table tops, coming back into fashion in a big way.
Tactile Journey
Soft to the touch fabrics such as velvets, linen and cosy kinds of cashmere are going to be everywhere in 2018 as people are voting with their senses and moving away from man-made fibres. As polyester and synthetic
furs which don't have the same enjoyable feel as organic alternatives, it is not surprising they're losing out.
To contrast these soft really sumptuous snuggly textures will be more Cold stone and
Unvarnished wood in interiors, very natural and earthy, without the coldness of Scandi styling. Scandi's moment in the limelight is over but as minimalism falls out of favour for more liveable decor expect to see hints of Scandinavian furniture in more Eastern inspired room settings.
Textured or beaded wallpaper is also going to be a key trend of 2018, while I'm certainly not a fan having spent countless hours stripping horrific 80's woodchip wallpaper of grimy renovation projects. While there are some beautiful examples of textured wallpapers on the market, and I'm sure 2018 will see even more coming to market, I would steer clear of them as plastic beads are disastrous to the environment.
Loving All things Curvy
Curves in Interior Design are nothing new but over the last decade have been replaced with harsh edges and boxy rooms, which when minimal look clean and slick, but in a room styled with layers and colours look unfinished and unrefined. I expect to see a return to sweeping curves in architecture and furniture design, as people look for elegant flowing designs in their interiors.


Wallpaper is going to be everywhere
As people get braver with colour they are also getting braver with pattern. In 2018 we will see the real rise in patterned walls as people begin once again decorating whole rooms instead of just doing feature walls. People want their homes to feel personal so are opting for bold patterns to reflect their personal style. Not sure where to put bold wallpaper, why not try the bedroom as you spend most of your time in the bedroom softly lit it is a great place to add bold wallpaper where you won't get bored of it.
Motif of the Moment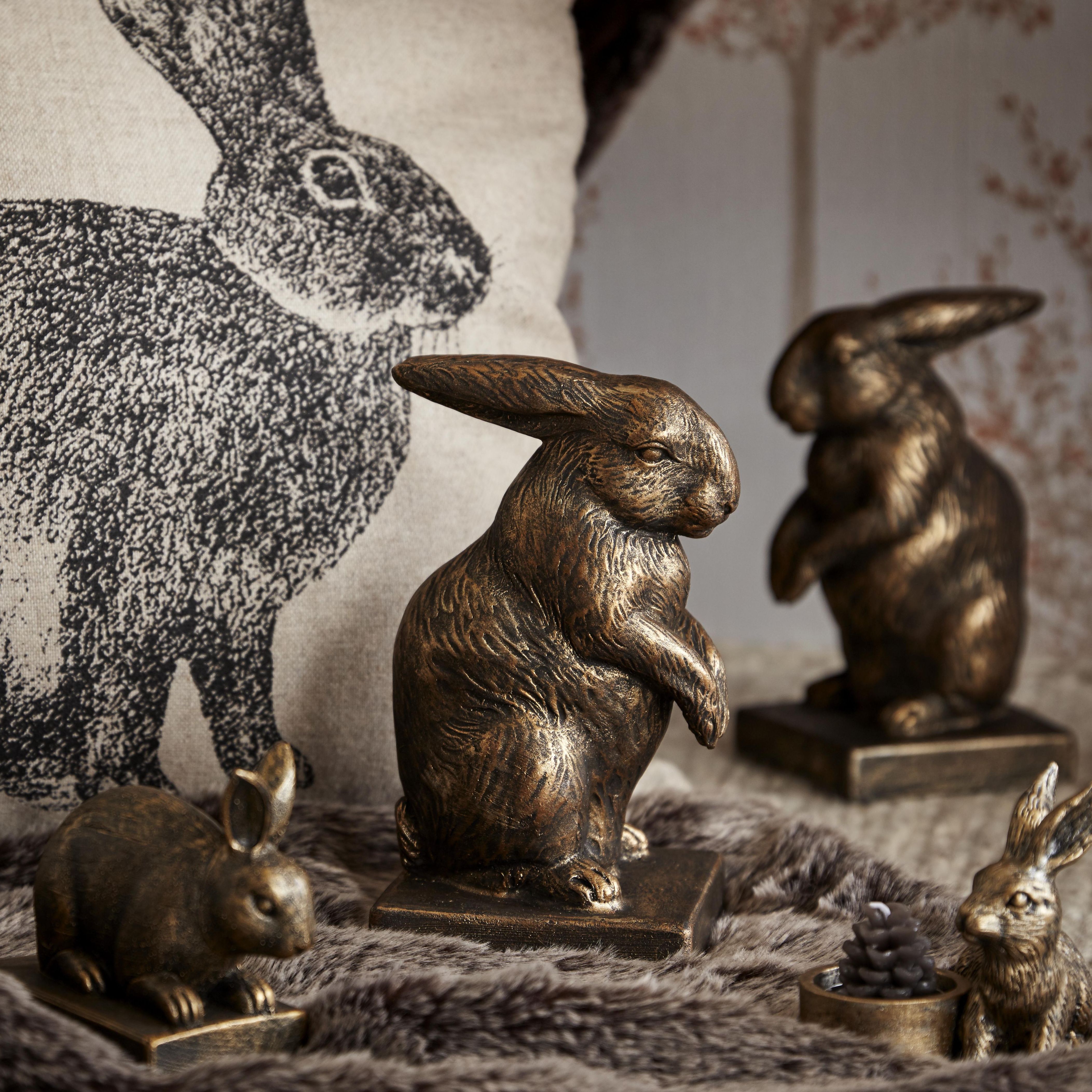 Image Source B&Q
Every season it seems there is a new motif of the moment, we're so over pineapples and the flamingo trend is being beaten into the ground but as is the circle of life with interior design new trends are always on the horizon. My prediction for the hot motif of 2018 is Rabbits & Hares! This country classic has been cropping up occasionally throughout 2017 and I think it is only going to grow in popularity. Not only are the cute these animals are versatile, instantly recognisable as a line drawing or as a painterly pattern. Following not far behind in the motif of the moment list are Pheasants as the country look is even more desirable in 2018.